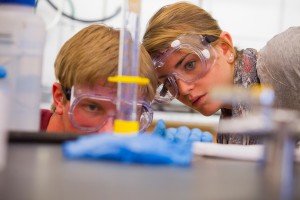 A Stonehill-Massasoit collaboration, which works to attract more diverse students to the fields of Science, Technology, Engineering and Mathematics (STEM), has secured $246,070 in renewed support from a major foundation.
The Lloyd G. Balfour Foundation, Bank of America, N.A., Trustee has renewed its commitment to the Stonehill-Massasoit Science Transfer Initiative (STI) with a three-year grant.
"Renewed support from the Lloyd G. Balfour Foundation could not have come at a more critical time as we try to build on the success of the STI and expand our collaboration with other area community colleges," says Stonehill Assistant Professor of Biology Rachel Hirst '98.
The STI was established in 2006 through a National Science Foundation grant and has helped Stonehill attract a larger and more diverse student population to its STEM programs. Balfour previously supported the STI with a $100k grant in 2009. The Foundation's latest grant will be used to advance STI by enhancing existing strategies, adding new ones and expanding partnerships.
Since the STI began, Massasoit has seen a seven-fold increase in enrollment to its Liberal Arts Transfer Science (LATS) program, going from 154 students to 1,118. The overall objective of the STI is to increase minority participation in STEM (Science, Technology, Engineering, and Mathematics) fields. One of the keys to the STI's success has been Stonehill's robust summer research program in which Massasoit students interested in pursuing STEM careers have had the opportunity to work alongside Stonehill and Massasoit faculty and Stonehill student mentors on summer research projects on the College's campus.
Stonehill will use a portion of the Balfour grant to add a new component to its early research experience strategy- a summer bridge program that will reserve four spots per year in Stonehill's summer research community for incoming community college transfer students.
"Providing incoming science transfer students with the opportunity to participate in undergraduate research will not only help smooth the transition by providing faculty and peer mentor support, but will also offer them a more well-rounded educational experience making them competitive as they continue their endeavors following graduation from Stonehill," says Hirst.
Another key component of the STI that will be further developed through these grant funds is improved admissions and recruitment efforts. Stonehill's STEM faculty will work closely with the Admission Office to help transfer students better navigate the transfer process. To achieve these measures, the College plans to implement community college specific transfer days that include tours of the Shields Science Center and meetings with admission and financial aid counselors, transfer services and science faculty. A STEM transfer coordinator in the Admission Office will deepen outreach efforts to regional community college contacts and will serve as a point-of-contact for all STEM transfer applicants.
"We are very grateful for the continued support by the Balfour Foundation. These new funds will enhance the existing partnership we have with Massasoit and assist our efforts to grow this program at other Massachusetts community colleges," says Vice President for Enrollment Management and Marketing Chris Lydon.
"Stonehill is committed to playing a visible role in assisting community college students with their transition to a four-year degree program and we believe the STI is an excellent complement to those efforts. The combination of our inspiring faculty, tradition of undergraduate research, and a first-rate science facility will assure that the Balfour Foundation's investment will be well spent over the next three years."
The Balfour grant will also allow for a stronger outreach effort by Massasoit and Stonehill to replicate its successful partnership at other regional community colleges. The STI at Massasoit was endorsed in 2011 by the Massachusetts Governor's STEM Advisory Council to be a model for other institutions across the state to build a pipeline of STEM professionals. Massasoit sought and received grant funding from the Advisory Council in 2012 to scale up elements of the program at Bristol Community College and Cape Cod Community College. Stonehill plans to build on Massasoit's relationships with Cape Cod and Bristol Community Colleges to strengthen the seamless transition of community college students to baccalaureate institutions.
Massasoit will use a portion of the Balfour grant to enhance and institutionalize early research experiences on its own campus. Dr. Gilles Bolduc was awarded a three-year National Science Foundation Advanced Technological Education grant in May 2012 to conduct summer research at Massasoit's Brockton campus. The NSF grant provides funding for one faculty mentor and three student researchers. The Balfour grant provides funding for two additional faculty and four student researchers.
Finally, with Balfour's support, Stonehill will coordinate a STEM Transfer Conference that will bring faculty and admission representatives from community colleges and four-year institutions together.
Students who have transferred into Stonehill as STEM majors from Massasoit have gone on to Ph.D. programs in biochemistry and molecular biology and internships at New England BioLabs. A total of 22 of the 29 students who have been involved in Massasoit-Stonehill summer research since 2007 have transferred to or been accepted to four-year institutions as STEM majors.
The Lloyd G. Balfour Foundation, Bank of America, N.A., Trustee was established in 1973. The Foundation's three primary focus areas reflect Mr. Balfour's strong affinity for the employees of the Balfour Company; his commitment to the city of Attleboro, Massachusetts; and his lifelong interest in education.