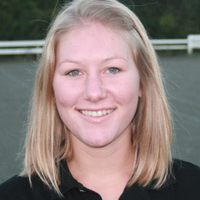 An Education in Business & Leadership
Kayla Mitchell '11
Look at what Kayla Mitchell did while at Stonehill and you can see she was not only developing the skills of accountant but also the qualities of a leader.
By the time she graduated in 2011 with a degree in accounting, Mitchell (nee Schneider) was captain of Stonehill's Varsity Equestrian Team and treasurer of the school's chapter of Colleges Against Cancer. She also capitalized on Stonehill's renowned Career Services Office, completing an internship with Goldberg & Associates in which she gained experience in preparing individual, corporate and partnership tax returns as well as preparing financial statements and assisting in year-end financial planning for Goldberg clients.
After graduating, Mitchell immediately took advantage of Stonehill's affiliation with Northeastern University to earn her Master of Science in Accounting degree. She now works at Deloitte & Touche, where she is an IT specialist in the Technology Risk service area with a focus on information systems and managing IT-related risks for Deloitte clients.
"Stonehill's Accounting program prepared me for my career by providing me with both accounting knowledge and soft skills of strategic thinking and team building," Kayla says. "I found each course offered a new challenge and a chance to team with my classmates to problem solve real-life business issues. Prof. (John) Schatzel's Accounting Systems and Auditing courses have a direct correlation to my current position and I apply course concepts daily."
Mitchell, who is married to Sean Mitchell '10, also has expertise in audits and Sarbanes Oxley compliance, has passed all parts of the Certified Public Accountant exam and is awaiting official approval and certification.