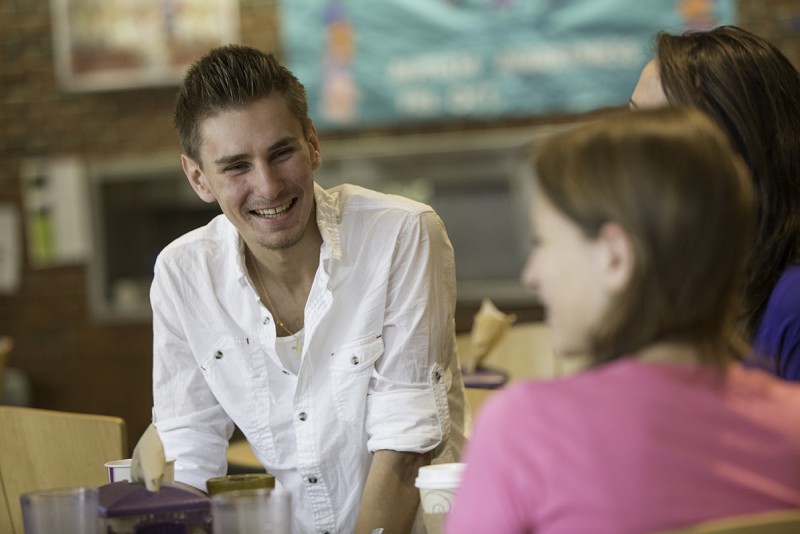 Robert Olberg '14 knew college would be different from high school. But he wasn't expecting the shift in his academic mindset to be so dramatic.
"When I got to Stonehill, I realized the professors are trying to fundamentally change how you study; you can't just regurgitate information anymore," says Robert. "The problems of college are more analytical – it takes an adjustment."
Luckily, Robert quickly found that Stonehill did have something he was expecting: professors who take time to get to know students. Robert was long planning to study pre-med; tragically losing his sister to cancer at a young age, along with a frightening hospital experience after falling ill on a community service project in Russia, had interested him in medicine. After considering pre-med programs at several colleges, he'd decided on Stonehill for the individualized attention students receive in Stonehill's classrooms. From day one, he knew he'd made the right choice when his general biology professor came to the first day of class knowing all 60 students' names.
Robert adds that Stonehill professors' interest in students goes far beyond simply knowing their names. "You can go to your professor and know they have time to speak to you," he says. And sometimes, Robert says, you don't even have to ask for help. "One day, my chemistry professor could tell I was having a bad day," says Robert. "She pulled me aside and said, 'Are you okay? Is there anything you need?' – and that just reinforced the reason I came here."
With support from his professors and Academic Services, Robert was able to fully embrace academic life at Stonehill. He says that studying the sciences means access to a wealth of resources at the Shields Science Center – from equipment to opportunities to tackle real-life research projects. And he believes the Christian foundation provided by education at Stonehill will one day help him to be a better doctor.
"Stonehill educates the entire person – you're learning broad lessons you can apply to any part of your life," says Robert. "As a doctor, I hope to provide spiritual support, to give patients comfort that medicine alone sometimes can't."