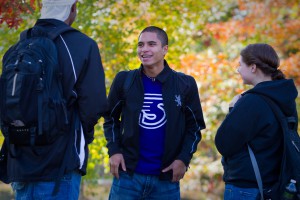 Randy Jose, '12, vividly remembers his first visit to Stonehill; the beauty and safety of the campus left an impression. He also recalls a little commotion in front of the Commonwealth Courts dorm.
"Students were hollering, "Come to Stonehill!'" he says. "They didn't know me, so it was special to see how people were reaching out and how they treat each other at Stonehill."
Randy says that once students arrive at Stonehill, they quickly realize that the sense of inclusion extends far beyond a warm welcome, even reaching the classroom. A Healthcare Communications class with Professor Brian McKenna illustrated what Randy says is a passion for teaching shared among every one of Stonehill's faculty.
"This is a professor who engages with you, he includes you in the subject matter," says Randy. "He puts you in the situation – he'll say, 'Randy, you have a mother and father, are you on their health insurance?' – and gives you a sense of belonging." He says the relationships he developed with his professors encouraged his interest in Healthcare Administration as both a major and a future career.
"I took courses around the beginning of healthcare reform in the national spotlight," says Randy. "They showed me how important healthcare is, both to the economy and to every individual – you can't be productive if you're not healthy."
Randy adds that the broad view of healthcare as vital to human productivity meshes perfectly with Stonehill's emphasis on service. He participated three times in the HOPE Alternative Spring Break program – an initiative Randy calls "groundbreaking" for engaging up to 10 percent of Stonehill students in community service during spring break. Randy says the experience taught him an important lesson about helping others, which he now applies to his work in Assisted Living community management.
"During my first trip, to New Orleans, we were disappointed when we learned we would be planting trees – we thought, 'How is that really going to help?'" he says. "But then we met with a community leader who said how much they needed everything, from building houses to planting trees, and it was humbling to know how huge an impact this small gesture could make."