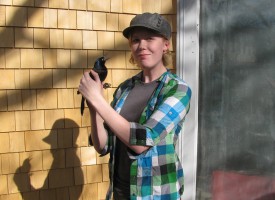 Megan Shave, top science graduate in the Stonehill Class of 2011, was awarded a National Science Foundation Graduate Research Fellowship in 2012. She will be supported by the fellowship for the next three years to further her research on avian behavioral and population ecology and continue her education at Michigan State University where she has been admitted to its doctorate program in the Department of Zoology.
As a Moreau Honors Scholar at Stonehill, Shave graduated in 2011 with summa cum laude honors as a Biology major and English minor. As a Stonehill Undergraduate Research Experience (SURE) scholar, Shave presented a poster at the Eastern New England Biological Conference in 2009, focusing her work on salamander tail samples she collected around campus. Now, through her NSF fellowship, she will continue her zoology research.
Since graduating in May, the Brockton native has continued her passion for biology and avian research, serving as a bird banding intern at the Manomet Center for Conservation Sciences, where she set up nets to band birds. Shave has also earneda fellowship at Michigan State's College of Natural Sciences.
The NSF Graduate Research Fellowship Program supports outstanding graduate students in NSF-supported science, technology, engineering, and mathematics disciplines who are pursuing research-based master's and doctoral degrees at accredited U.S. institutions.
Shave will receive a $30,000 a year stipend for three years to fund her research, a cost of education allowance, and access to international research opportunities, along with top of the line resources and data collectors.