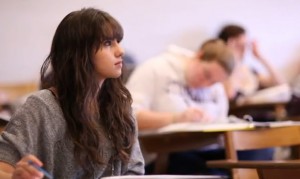 Lindsay Martin describes her personality in high school as reserved. But when it came to choosing a college, she wasn't shy about turning down offers from other schools in favor of Stonehill's close-knit community that seemed to mirror her small New Hampshire hometown.
Lindsay says that her years at Stonehill were perfectly suited to helping cultivate her interests – and her voice. As she sat in her first Student Government Association Town Hall – an open forum where administration and students speak candidly about areas for improvement – she realized she was in a place where students had a real say, where her own opinion mattered.
"Stonehill students make a name for themselves," says Lindsay. "Everyone can get involved and be heard."
Long focused on a career in marketing, Lindsay quickly discovered her niche, enhancing on-campus recognition of the marketing field by leading Stonehill's chapter of the Marketing and Management Association. To recognize students in the field, she also established a Stonehill chapter of the national marketing honor society Alpha Mu Alpha, inviting W.B. Mason CEO and Stonehill Trustee Leo Meehan, '75 to speak at its first induction ceremony.
But Lindsay adds that Stonehill's liberal arts education helps students grow beyond their major. Her interest in Spanish evolved into a Spanish minor and a semester abroad in Madrid, and she took classes that augmented her understanding of both business and society. Lindsay cites a business ethics course with Professor Claus Dierksmeier as instilling in her "a passion for business careers that serve the greater good." The course led Lindsay to focus her career plans in the area of corporate social responsibility.
"I came to Stonehill because I wanted to learn more than business – I wanted a broader perspective," says Lindsay. "My education also exposed me to areas like health care and environmental issues, which make me a more informed citizen."
Lindsay believes that the voice she found at Stonehill will serve her no matter what future direction her career takes. "In high school, I was voted 'quietest,'" says Lindsay. "Now I have the confidence to succeed in the professional world."