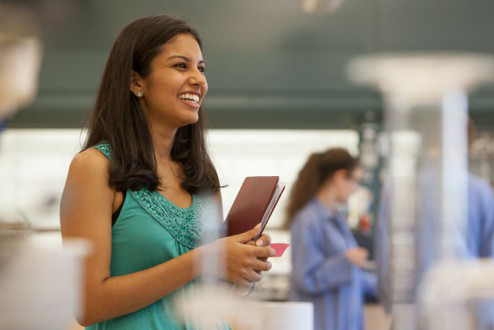 Last summer, Jasmine Khubchandani '12 would often find herself sitting in the shadow of the Eiffel Tower eating a picnic dinner with some of the foremost student researchers in the world.
One of only four Judith P. Sulzberger interns from the United States, Jasmine spent 11-hour days conducting research in the Chemistry of Biomolecules Unit at the famed Institut Pasteur in Paris.
"The level and the rigor of the work was unlike anything I had ever experienced," Jasmine says. "I would never have been prepared without the background I had in the organic chemistry lab at Stonehill."
Jasmine's entry into research started after her freshman year when she was invited to complete a Stonehill Undergraduate Research Experience. It was one of three eventual research projects she completed with faculty that gave her the confidence—and the curriculum vitae—to be chosen for the Pasteur program.
"With lab work, you have to build up your skills to keep learning. I was able to take advantage of the opportunity of a lifetime in Paris, but I wouldn't have gotten there without that first chance as a freshman."
In addition to the time Jasmine spent in the lab, she was involved with the Intercultural Affairs Office, participating in the ALANA-A Big Brothers and Sisters Leadership program and creating an annual Bollywood-style cultural event as part of Spring Weekend. She is also a three-time participant in the HOPE Alternative Spring Break program.
"Exploring issues of diversity and social justice is a huge part of who I am," says Jasmine, who is of Indian decent and recently became the first woman in her family to earn a college degree.
An aspiring physician, Jasmine is now studying for the MCATs. "All of my experiences at Stonehill have contributed to me growing as a person and finding my voice."