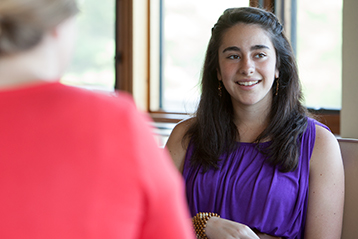 Hailey Chalhoub '13 knew she wanted to get involved on campus even before she moved into the residence halls.
During Stonehill's summer orientation for new students, she admired the relationships and experiences of the program leaders. "Watching how they connected with one another, I knew I would find my place at Stonehill," Hailey says.
As an active participant in a number of organizations and cocurricular programs, Hailey certainly found her place. She became the programming chair of the Student Government Association's Executive Board, coordinating events and acting as a faculty liaison.
She also worked with the Intercultural Affairs Office to develop resources that promote diversity, such as the ALANA-A Brothers and Sisters Leadership Program. "It's really furthered my interests in social justice and allowed me to help build an inclusive community," Hailey says.
As a member of the Mindful Living Community and the Activism Club, Hailey lived and collaborated with other students interested in social and environmental action. She also participated in the HOPE Alternative Spring Break program, volunteering in the Dominican Republic, Honduras and as a student leader in Camden, NJ.
In her senior year at Stonehill, Hailey continued to pursue her interests by conducting research through the Stonehill Undergraduate Research Experience (SURE) with sociology professor Christopher Wetzel and traveled to Kenya to study health and community development.
Recently graduated, she is now volunteering for a year in Tanzania as a project coordinator with the nonprofit organization 2Seeds Network, which works with community partners on issues of food and income security.
"I've been able to create my own experiences at Stonehill. If you want to try something, you'll have the support and the resources you need," Hailey says.