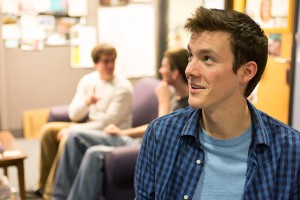 When David Girvan '13 walked into his financial accounting class on his first day at the College, Professor John Schatzel greeted him with a cheery, "Hello, David."
He had never met Schatzel before and learned that his professor studied student ID photos prior to class so that he would know everyone by sight. "I love the fact that I'm not a number here at Stonehill," David says. "[Faculty] care and want to have a relationship with students."
David, whose older sister also graduated from Stonehill, says that the College is not so small that you know everyone, but not so big that you're lost in the crowd. "It has such a great sense of community that I fell in love with it. There was no way any other school had a chance."
From nearby Norwood, Mass., David is so busy on campus that he rarely has time to go home. He is a member of the Ultimate Disc Club and has served as a Peer Mentor and an Orientation Assistant. He's also an intern in the Admission Office at Stonehill and volunteered on HOPE Alternative Spring Break, contributing to the 95,000 hours of community service completed by students last year.
One of David's favorite Stonehill experiences has been the chance to study abroad for a semester in Florence, Italy, which he says was highly encouraged. "We actually send double the national average for a school our size," David says. "I had friends who studied abroad as well, so I got to travel a lot."
Stonehill's financial aid package helped make David's study abroad possible, and has made college education affordable for his family. Sheila Buckley, David's mother, says that without assistance from the College, her children might not have been able to enroll. "The Financial Aid Office, from the minute I went there, they did everything in their power to help me," she says.
David remembers that as a freshman he was shy and rarely spoke up. Now he regularly leads tours of 60 people around campus and is looking forward to a career in higher education working with students. "I've definitely found passions here at Stonehill that I didn't think I would have. I'm so glad to have had these opportunities."