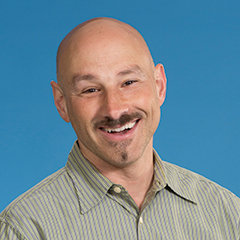 Talk to Professor Ron Leone, and you'll come away knowing one thing: He loves movies. And his passion for film comes through as infectious enthusiasm he is happy to share with every student in his Media and Cinema Studies courses.
Just ask Christine Dwyer, '12, a science major who took a film class with Leone as a last-minute elective when it fit her schedule during her senior year. Though she intended to pursue work with animals, she had always had an interest in film. A few class sessions with Leone, and she was hooked.
"Taking his class reminded me why I like film – it was like a reawakening," says Christine. "I realized I didn't want to pursue science anymore, and Professor Leone urged me to follow my passion."
With Leone's encouragement, Christine made an eleventh-hour career change and pursued an internship in Los Angeles. She was recently offered a full-time position with E! Entertainment Television, which she says would not have been possible without the knowledge and enthusiasm imparted by Leone.
Christine is just one of many students influenced by Leone during his tenure at Stonehill, which began in the fall of 2000. Though film had been taught through the English Department since the 1970s, there was no formal Cinema Studies program offered at the College. As the sole faculty member with an advanced degree in film, Leone collaborated with the English department to create a full-fledged Cinema Studies minor.
"What attracted me here was the sense that I could have an impact right away, and I found this to be true from day one," says Leone. "At Stonehill, every idea that could benefit students will be heard and considered."
Leone proved this point once again when he helped launch Stonehill's Los Angeles Internship program in 2010. Based on the success of Chris Gagne, '09, in securing an entertainment internship, Leone worked with Chris and other students to place students in positions at CBS, MGM, Warner Brothers Records and others.
"This program has shown that our students are every bit as good as those from large universities with powerful Hollywood networks in place," says Leone. "They are getting the jobs that everyone wants."