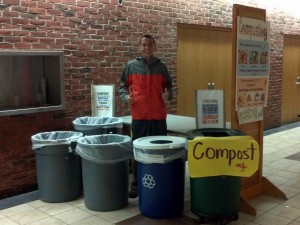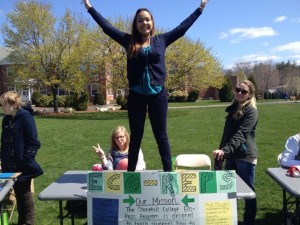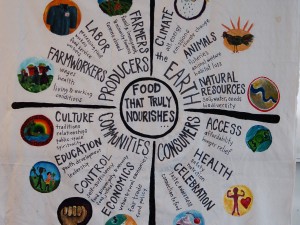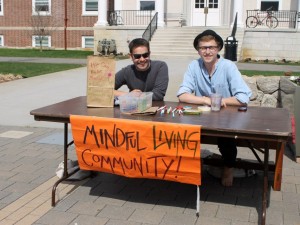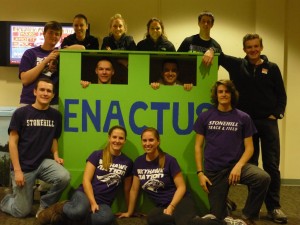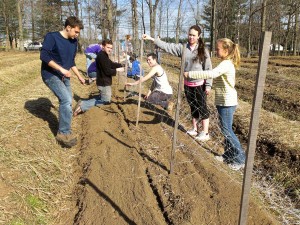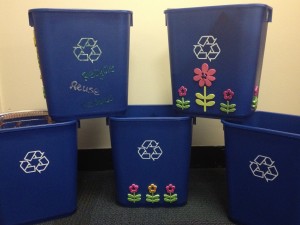 Compost Team
Sean sets up the compost bin in the Commons for its debut in Fall 2012
Eco Reps
Mindful Living Community
Enactus
Enactus poses around their donation bin in the Commons
The Farm at Stonehill
Students lending a helping hand at the farm.
Programming Eco-Rep
Some of the results from the recycling bin decorating event co-hosted by Programming Committee and Enactus.
Students for Environmental Action (SEA)
The club, Students for Environmental Action (SEA), serves to educate the campus community about different environmental issues on campus and around the world. S.E.A. sponsors campus wide programs and initiatives that make Stonehill a greener school.
Sustainability fairs are campus wide events that are organized by SEA and occur once a semester. The sustainability fairs feature student groups, class projects, department groups, and vendors associated with the college that are working to promote and incorporate sustainability on campus.
The Zipcar program was a result of the hard work and dedication of SEA members. Zipcar has been available for students and faculty to use on campus since Fall 2011. Check out the Zipcar page for more information.
The current goal of SEA is to implement a bike share program that will allow students to rent a bike and use it to get around campus, CVS, or other nearby businesses. The bike share program would provide another form of transportation that reduces emissions, and does not require the use of fossil fuels, making for a more sustainable Stonehill.
For more information and to keep up to date with the initiatives and efforts of SEA check out their Facebook page.
Contacts
Activism Club
The mission of activism club is to educate the campus about social justice issues while promoting sustainable development in communities and the environment. Activism works with students and faculty to address these issues in meaningful ways on campus.
Waterfest is sponsored and organized by Activism and features games, performances, and demonstrations by multiple students groups on campus, educating the Stonehill community about the privatization of water and generating awareness about other global water issues.
Bottled water uses millions of gallons of oil in production and results in adding millions of discarded bottles to our already packed landfills. "Think Outside the Bottle" is a campaign led by activism to educate the campus about issues concerning the privatization of water, water justice and the reduction of bottled water use on campus. Activism Club secured over 1,250 student and faculty signatures for their proposal to reduce and phase out unnecessary college budget spending on bottled water. The proposal and signatures were submitted to the President of the College and it was passed. The passing of Activisms' proposal means the college will phase out budget spending on bottled water at major events. In addition, fourteen bottle fillers were installed on existing water fountains, and six brand new motion sensor Hydroburst bottle fillers or "hydration stations" that dispense cool, filtered water, have been installed in various buildings around campus. The Duffy Academic Center hydration station (see below) registered its 25,000th refill in March 2013 translating to 25,000 fewer plastic bottles consumed. Visit one student's blog post for 5 reasons to stop drinking bottled water.
And don't forget to bring your reusable water bottle to the dining hall where you will receive 10₵ off your beverage purchase!
Activism's new initiative is focused on increasing the number of Fair Trade items sold on campus. This initiative combats unfair working conditions and trade practices, while promoting sustainable development in communities and the environment. Visit Activism's Facebook page to learn more about the club and follow their crusades.
Contacts
Mindful Living Environmental Action Committee
The Mindful Living Community is a special interest house on campus comprised of 50+ students that live together and choose to consume less, conserve more, and give back to the community. The three tenets of the Mindful Living mission are environmental action, social action, and community building. Within the Mindful Living Community, the Mindful Environmental Action Committee serves to educate the Mindful Living community and Stonehill community about easy ways to be more environmental friendly.
Some ways in which the Mindful community contributes to their environmental action mission include composting, recycling redeemable bottles and cans and organizing campus wide clean-ups in which anyone can participate.
The Farm at Stonehill
The Farm is a sustainable, organic farm that grows and distributes produce to local organizations to help feed local families who lack access to affordable fresh fruits and vegetables. The Farm distributes produce to some 400 people weekly through four organizations: My Brother's Keeper, the Easton Food Pantry, The Table at Father Bill's and Main Spring, and The Family Center at the Old Colony YMCA in Brockton. Students, faculty and others are invited to volunteer and assist in the planting, nurturing, harvesting, and delivery of crops to the different organizations. For more information about the Farm, visit The Farm at Stonehill page and blog.
Contacts
ENACTUS: Enterprise, Action and Us
Stonehill Enactus (Enterprise, Action and Us) works to bring together the top leaders of today and tomorrow to create a better, more sustainable world through the use of business principles and business models. The club promotes the awareness of business opportunities to address and solve social problems by creating outreach projects that improve the quality of life and standard of living.
Each Fall the group organizes and facilitates a furniture fair where unwanted residence hall items from the previous year are collected and resold to incoming students. The furniture fair eliminates disposal and maintenance costs as well as provides freshman with affordable alternatives. All the proceeds from the fair and remaining furniture after the event go to My Brother's Keeper, a neighboring food pantry that redistributes and delivers the donated furnishings.
"Students Against Waste" (S.A.W) was another initiative taken by Enactus that increased sustainability around campus by providing students with "green" alternatives such as reusable to-go containers and travel mugs.
"The Running Exchange" was Enactus and Stonehill's first global project. Over the course of the project 400+ pairs of sneakers were collected and either donated to Kenya, recycled, or domestically redistributed.
"Broadcast Brockton" was an Enactus campaign that had a goal of promoting an increase in sales from the Stonehill community for local businesses, specifically restaurants. This initiative fostered relationships between businesses in the local community and Stonehill students.
For their endeavors and creativity in preventing waste, the Stonehill chapter of Enactus recently won Rookie of the Year & Regional Champion awards from Enactus.
Food Truth
The student formed group "Food Truth" encompasses all aspects surrounding the food system: production, purchasing, menu planning, composting and waste disposal. Food Truth also serves as an umbrella group combining the smaller student groups Real Food, Compost Team, and No To-Go.
Compost Team
The Compost Team is a small group formed in the Fall of 2011 and comprised of faculty, staff, and students focused on advocating and educating the student body about reducing the waste of organic material on campus through composting.
Compost team has served to educate the campus on how to compost through classes, posters and incentives. Composting in the Roche Dining Commons began on September 5, 2012 and has also been implemented at the Holy Cross Center cafeteria. All compost collected is delivered to the farm at Stonehill where it is used to feed the soil and grow crops that are harvested and donated.
Contacts
Bridget Meigs, Farm Manager
Email: bmeigs@students.stonehill.edu
Programming Eco Rep
The Programming Eco Rep educates and raises awareness about environmental issues through fun, interactive, campus wide programs and all SGA Programming Committee programs.
In the past, the Programming Eco Rep has been responsible for having eco-friendly prizes at Bingo nights, providing alternatives to usage of plastic baggies at the popular event, "Candyland," and collaborating with other student groups for sustainable giveaways.
In 2012 the Programming Eco Rep and Enactus collaborated to sponsor and organize a recycling bin decorating program where 100+ mini recycling bins were decorated and taken home during the event. Students partook in the activity which raised awareness about recycling in dorm rooms and res halls. Students enjoyed the program and were able to express their creativity and become more conscious of recycling in their everyday lives through this fun, interactive activity.
Contacts
Eco Rep Class
The Stonehill College Eco Rep Class is a one-credit class designed to teach students how to promote campus sustainability and environmental stewardship through peer education. Eco Reps are responsible for hosting at least one program per month in their residence halls. These programs are designed to educate their peers about how to act in a more environmentally conscious way. The 2011 Eco Reps Class was responsible for creating the Sustainability Blog that you can learn more about under Student Sustainability Blog.
How it all started
The program began in Fall 2010 when Professor Susan Mooney's Environmental Ethics class designed a plan for doing peer environmental education inexpensively. That spring, as part of her senior thesis, Stephanie Mealey wrote a formal proposal to the College. The Eco Rep practicum was approved by the College in late spring 2011 and was implemented for the following fall.
What does it mean to be a peer educator?
Peer educators are trained to facilitate change within a group of individuals by encouraging them to make more conscious decisions. They do this by acting as role models, by being accessible as a resource to students, offering education on relevant topics and empowering their peers to take action.
Barriers to changing behavior:
• Lack of knowledge
• Lack of opportunity to do the right thing
• Apathy
• Lack of self-motivation
• Inconvenience
Contacts
Sustainability at Stonehill (SGA)
The SGA focus group Sustainability at Stonehill focuses on campus wide recycling, dining hall composting and ways to reduce water usage.
In 2012 students voted on an extra $50,000 budget from SGA to go towards a sustainability package that included installation of filtered water bottle dispensers, multi-stream recycling bins, energy saving motion sensor lights, low flow faucets, low flow shower heads and more. These sustainability tools have helped Stonehill reduce waste and energy consumption as well as help students practice a more sustainable lifestyle.
Contacts