All of the classrooms and labs in the Shields Science Center use Crestron Wall Panel Control Systems. These are wall mounted panels you can use to operate the video projector, select the input for the projector, and control the volume. The projector screen is controlled by a switch on the wall located near the Crestron Control panel.
Press PROJ PC, PROJ LAPTOP or PROJ VIDEO on the control panel.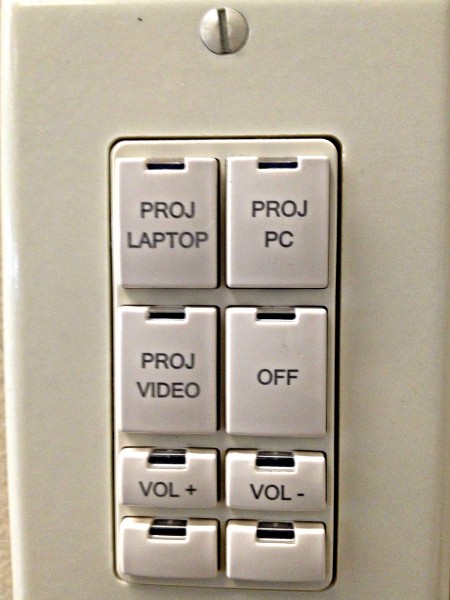 Note: Projector must be on to hear audio.
Display Desktop or Laptop:
Press PROJ LAPTOP button for the laptop computer.
Press PROJ PC button for the PC.
Plug your laptop's power cord into the power socket on the lectern panel.
To connect to the Internet, plug your Internet cable into the Internet connection plug on the panel.
Turn on your laptop.
Troubleshooting:
If you do not get a picture on both your laptop and the projector screen:
On Windows, hold down the following laptop keys simultaneously:
The Fn (Function) key located on the bottom left of the keyboard, and...
The corresponding monitor "F" key (i.e. F4, F8, etc.) located across the top of the keyboard. The specific "F" key varies on laptops, therefore look for the "F" key displaying two monitor symbols or labeled "LCD/CRT".
On OS X (Mac), navigate to System Preferences > Displays > Arrangement, and then click in the box next to "Mirror Displays" to place a check mark in the box.
Display DVD and VCR:
Press PROJ VIDEO on wall panel.
Adjust your volume with the VOL+/- buttons on the wall panel.
Shut Down:
Turn off your laptop.
Disconnect the VGA cable from your laptop.
Press the DISPLAY POWER button. Light will flash while the projector cools down.
NOTE: you will not be able to restart the system until the projector cools down. This will take approximately 2 minutes.
Raise the projector screen by pressing the wall switch up.