Most of the classrooms on campus are setup with our standard configuration. These classrooms are equipped with a video projector and screen, DVD/VCR combination player, an audio mixer, a switch box to toggle between inputs, a Windows desktop, connections for a laptop, document camera, sound capability, wired and wireless network access. In each of the rooms there is a remote control to turn the projector on and off.
Projecting
Aim the projector remote towards the front of the ceiling projector, press the "On" button just once. The lights under the projector will flash while the projector warms up.

Desktop, laptop and document camera all use the display button Computer 1
To turn the projector off, press the Standby button twice
Note: Laptop/computer resolution should be set to 1024 X 768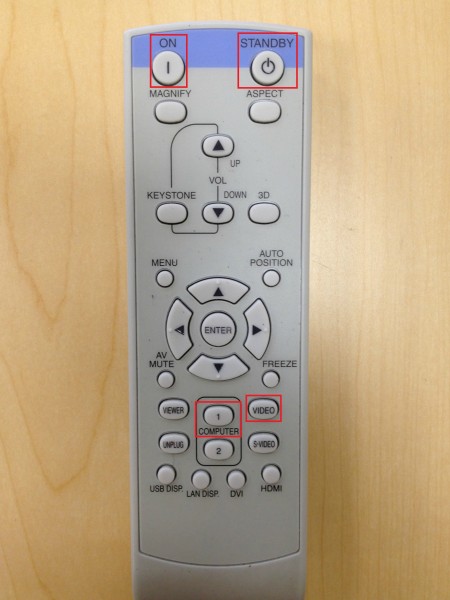 Input Switch
1.Change the Black Box switch to indicate desktop, laptop or document camera. It is easy to go back and forth between displays.
2.You will need to connect the laptop using the VGA cable, clearly labeled at the podium (Mac's require VGA adaptor). Sound connects using the audio cable to the headphone jack on the laptop.

Note: Any input changes take at least 5 seconds to appear on the screen.

Audio
Controlled through the volume dial on the amplifier.
Note: Please do not turn off the amplifier.

Document Camera
1.Use the remote Computer 1 button and make sure the Black Box switch is on Document Camera. (see instructions above)
2.To turn the camera on— push the illuminated Power button on the camera base to activate.
3.Aim the lens arm on the object below. Adjust the size using the
4.Zoom dial located on the side of the lens arm.
5.Focus using the AF button on the zoom dial.
6.Adjust brightness with the arrows on the camera base.
7.Turn the camera off— use the illumination power button on the base to deactivate.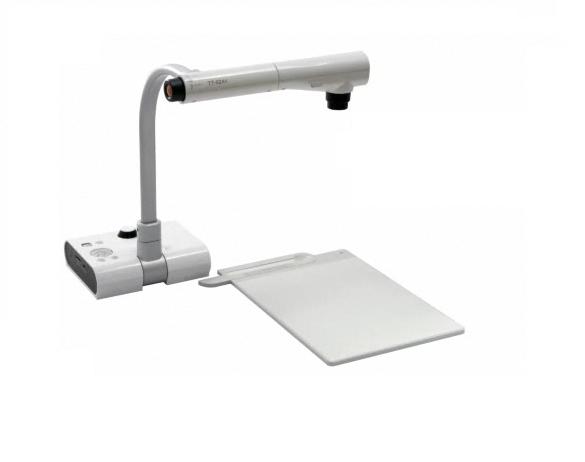 Troubleshooting Laptop Mirroring
If you do not get a picture on both your laptop and the projector screen:
Windows - hold down the following laptop keys simultaneously:

Mac OS X - navigate to System Preferences > Displays > Arrangement and then check off Mirror Displays.