Each Extron Control System allows you to operate the video projector, select the input for the projector, and control the volume.
On the 2nd shelf from the floor, locate the large black Extron box.
To turn on the projector, press and hold the top left green button labeled DISPLAY POWER for two seconds.
The projector should show a solid green color on the bottom.
If using the desktop computer, press the white button labeled CMPTR. It is located on the second row of buttons.
If using a laptop, press the white button labeled LAPTOP. This button is located next to the CMPTR button.
If using the DVD/VHS combo unit, press the white button labeled DVD/VHS.
Volume control is located on the right on the Extron box.
When finished, please press the green button labeled DISPLAY POWER and hold for two seconds. The power to the projector should turn off immediately.
NOTE: Please do not turn off the amplifier at any time.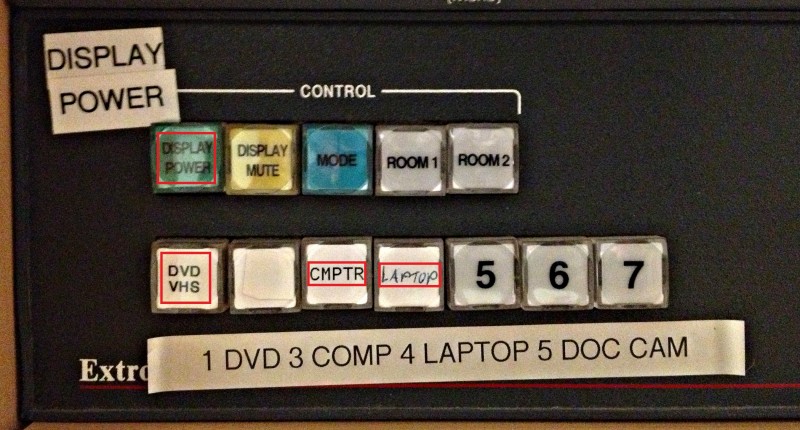 Troubleshooting
If you do not get a picture on both your laptop and the projector screen:
On Windows, hold down the following laptop keys simultaneously:
The Fn (Function) key located on the bottom left of the keyboard, and...
The corresponding monitor "F" key (i.e. F4, F8, etc.) located across the top of the keyboard. The specific "F" key varies on laptops, therefore look for the "F" key displaying two monitor symbols or labeled "LCD/CRT".
On OS X (Mac), navigate to System Preferences > Displays > Arrangement, and then click in the box next to "Mirror Displays" to place a check mark in the box.