The Faculty Information channel in myHill allows faculty members to keep track of assignments and assignment schedules. Through this channel, the faculty member also has access to information about the course and student information.
The Faculty Schedule channel in myHill allows faculty members to view a customizable schedule of their classes. This channel also gives access to detailed course information.
Faculty Information
The Faculty Information channel provides links to active assignments and detailed schedule for each assignment.

When selected, the active assigments will list each assignment in the format displayed below.
Please note the links to explore each active assignment.
The Course Title links you to all available sections of the course. The CRN links you to the faculty detail schedule for the course. You can also link to the course syllabus, office hours and class roster.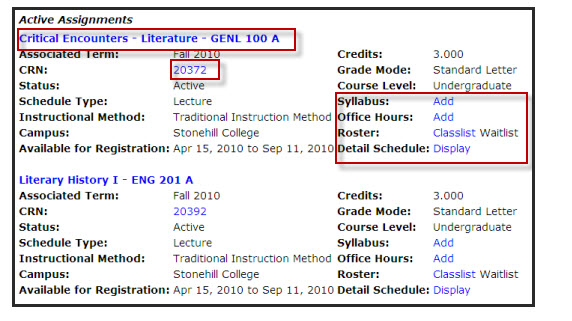 The Advisor Dashboard channel will allow you to access information about the students.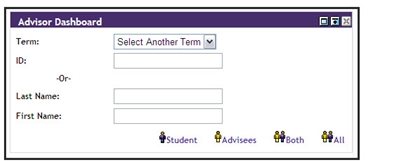 To lookup information about a student, choose a term from the "Term" dropdown menu, then type the student id number or last name, then click on one of these options to start a search.

You will see the search result giving you links to the student(s) that match the criteria you entered.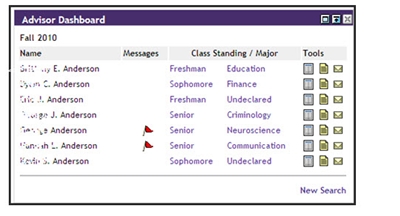 Faculty Schedule
The Faculty Schedule shows class and/or office hour commitments. The default format is "Daily View." The Search feature navigates to a particular week or day (depending on the current view). The yellow left and right arrows navigate to the next and prior day of the week if you are in the "Weekly View" mode.

You can change the view from daily to weekly by clicking on "Weekly View."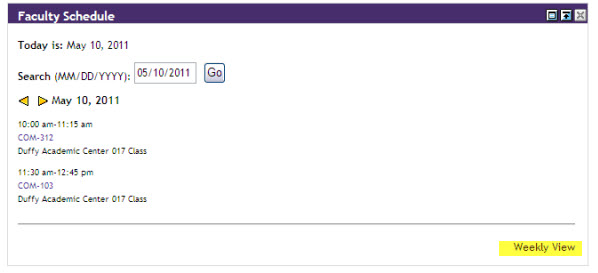 The Course Title links to a detailed schedule for the course including class schedule, enrollment counts, classlist or roster,
ability to link and add office hours and class syllabus.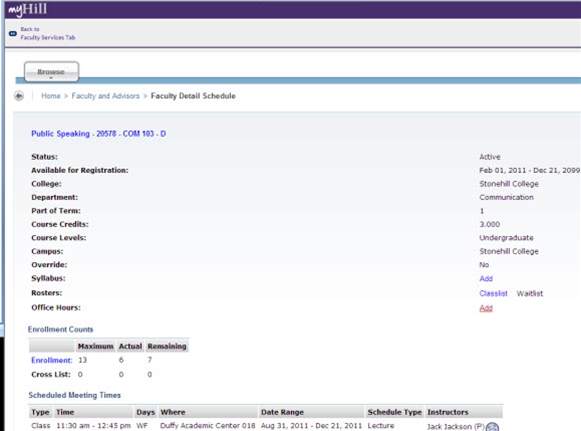 Click on Course in the "Faculty Detail Schedule" to get detailed information on the course.