The Faculty Dashboard provides the faculty member with a
quick, easy tool for viewing active classes, faculty detail schedule,
class list, wait list (if applicable), syllabus information, office hours
and a way to email the entire class. This information can be sorted by
term or subject code.
To access the Faculty Dashboard, start an Internet browser. Connect to myHill login page at http://myhill.stonehill.edu


and log in with your Stonehill username and password. Click on the Faculty
Services tab to view channels and access banner services. The Faculty
Dashboard is the first channel on the left column.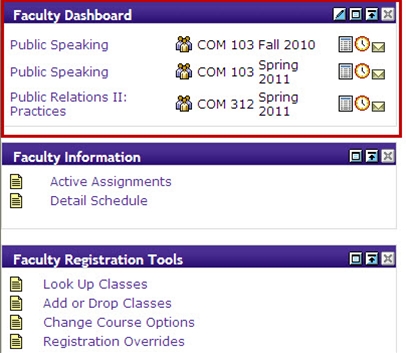 Several tools are available to make selections. The Pencil icon on upper right hand corner is the Edit button. The next three icons are maximize, minimize and close buttons.

Click on the Pencil icon to see your options as displayed below. Check or uncheck the tools you want to see, click on Apply and then, click on Back.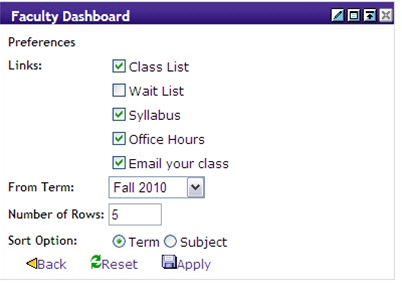 From Term" dropdown box will display all courses beginning with specified term.
The "Number of rows" box specifies number of courses to list. Currently, if a faculty member has more than 4 courses, it is best to use the Detail Schedule in Faculty Information tab that displays the courses in "daily" or "weekly" view formats.
The "Sort options" radio button allows you to sort by term or subject.
Click on the Course Title link to view your "Faculty Detail Schedule" page for this course.
The Class Icon looks like a group of three people. Click on it to visit the summary class list page for this course. You can copy your class roster from this page to create an Excel gradebook.
The Waitlist icon will display students in your waitlist if applicable.

The Syllabus icon looks like a sheet of paper. Click on
this to create or edit syllabus for a course. Use the page to maintain
syllabus information, learning objectives, required materials, and
technical requirements for the course.
The Office Hours icon looks like a clock. Click on the icon to view class meeting times and to set office hours for that class.
The Email class icon looks like an envelope. Click on
the icon to email your class.
In normal circumstances, you would probably use Webmail (webmail.stonehill.edu

). However, if you need to use myHill to email your class from home, you must first establish a VPN
connection (Virtual Private Network). The VPN network establishes a
"secure tunnel" for your computer on the Stonehill network and allows
you to use the exchange server to email your students. Once VPN
connectivity has been established, you can start Outlook to check or
compose messages. If you login to myHill, you can also use any of the
email links to send messages to your students.