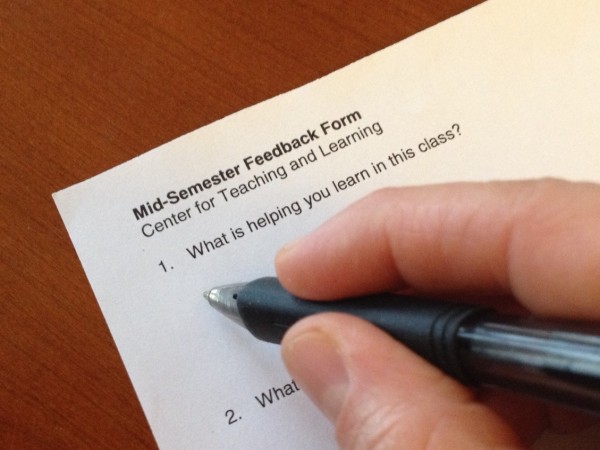 Faculty interested in gathering mid-semester feedback about how a course is progressing may consider one of the following options. The CTL is also happy to work with faculty to develop alternative assessment approaches that best fit their needs.
All of the following services are voluntary and confidential. The faculty member will have sole ownership of any data that is generated.
Student Written Feedback
Gathering written mid-semester feedback from students takes little in-class time--about five minutes--yet can generate useful data about students' perceptions of a course. Most often structured around a couple of open-ended questions (e.g. "What is helping you learn in this class?"; "What suggestions do you have for improving your learning?"), written feedback can also be used as an opportunity to gather information about a specific aspect of a course (a new textbook, for example) or to have students' assess their own work in the class (i.e. "Name one thing you could do to improve our class discussions").
What the CTL Will Do
Stacy will work with you to design the feedback form, come to your class to collect the feedback, organize and type up the students' comments, and meet with you to discuss the feedback implications and to brainstorm possible ways of addressing them.
Small Group Class Interview
The small group interview (sometimes called a Small Group Instructional Diagnosis, or SGID) takes more time (about 20 minutes) but allows for more detailed feedback. An SGID is structured so that students first discuss their thoughts about the class in small groups and then with the class as a whole. The CTL facilitator then asks follow-up questions of students so as to clarify more precisely what students' concerns and suggestions are.
What the CTL Will Do
After meeting with you to learn more about your course, Stacy will come to the last twenty minutes of your class and lead the students through a guided discussion to identify what they see as the strengths of the course and areas for improvement. She will then organize and type up the students' comments and meet with you to discuss the students' feedback and brainstorm effective strategies for addressing it.
Classroom Observation
The CTL approaches classroom observation as a formative, rather than summative, activity: one geared towards reflection rather that evaluation. The CTL is happy either to come observe a class or to help colleagues work together to insure a good peer observation experience.
A good classroom observation should help you assess whether what you want to happen in a class is actually happening. A second set of eyes and ears in the room can help identify how students are responding to different class activities. And an objective observer can note what you're doing to help further your goals for a class -- and moments where you might be getting in your own way.
What the CTL Will Do
After meeting with you to learn more about your course and any particular concerns you have, Stacy will attend one or two of your class sessions, making detailed notes as to what is happening in class and students' reactions to it. She will then type up her observations and discuss them with you. The focus is on identifying what classroom practices appear to be supporting your goals and brainstorming additional strategies for meeting them.
Classroom Videotaping
Videotaping can seem daunting, but it can also provide faculty an invaluable opportunity to assess their own teaching.
What the CTL Will Do
Stacy will arrange to have one of your classes videotaped and then will meet with you afterward to view the tape and discuss its implications for your teaching.