The Center for Nonprofit Management at Stonehill College works with and builds the leadership capacity of community-based nonprofit organizations through southeastern Massachusetts and northern Rhode Island. We are a place where nonprofit and community leaders come together for learning, skill-building, networking, and research.
Staff listing
---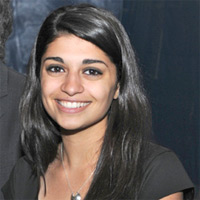 Sarah Varadian '10
interim director

(508) 565-1856
svaradian@stonehill.edu
Sarah Varadian, a 2010 graduate of Stonehill, is currently the Center for Nonprofit Management's Interim Director a role she has accepted after serving for nearly two years as its Program Officer.
As the Interim Director at Center for Nonprofit Management (CNM), Sarah leads its external outreach and fund development efforts, organizes and runs the signature training programs, conducts specialized consultations in the areas of organizational development, board governance and strategic planning and manages the Developing Fundraising Leaders Institute (DFLI), a program that trains undergraduates in fundraising and development through a partnership with the College's Advancement Division.
Nearly ten years ago, Sarah started her own nonprofit initiative, The Wee-Care Bears, whose beneficiaries include girls' schools in Afghanistan, third world countries in Africa and an orphanage in Armenia. Her interest and passion for fundraising only grew when she discovered the incredible resources that CNM has to offer.
She became a CNM Intern in 2008, participated in the inaugural year of the Developing Fundraising Leaders Institute (DFLI) and completed the program with an internship at Lifespan, a healthcare system whose development department is responsible for the fundraising and advancement of five of the hospitals in Rhode Island. After graduating from Stonehill, Sarah worked as a consultant for Lifespan for a year and a half, rotating through each of the affiliate hospitals in various development capacities.
Having gained experience in many aspects of development and special events, Sarah is thrilled be able to bring her ideas and passion back to Stonehill and to the nonprofit sector in her new role at CNM.
Sarah is the President of the Armenian Youth Federation's Providence, RI chapter and has served on the board of directors of the Norwood Scholarship Foundation for the past four years. She also recently joined the United Way of Greater Plymouth County's Allocations Committee and Stars 40 Under 40 Nomination Committee. A Massachusetts native, Sarah now resides in Cranston, RI.
Ariel V. Bowen '12
Administrative Assistant
(508) 565-1855
Ariel V. Bowen is the Administrative Assistant at Center for Nonprofit Management. She received her Bachelor's Degree in 2012 from Stonehill College with a major in English and a minor in Religious Studies. Ariel works closely with the Interim Director and assists with managing the CNM student interns.
Throughout her time at Stonehill College, she was actively involved with multiple organizations on campus centered on diversity, empowerment and inclusion. During Ariel's freshman year, she was selected to become a member of the ALANA-A Brothers and Sisters Leadership Program and reached a new level of maturity and responsibility as a senior, when she served as the Coordinator of the program.
In spring 2012, she was the Program Intern at Center for Nonprofit Management. Aside from assisting with the daily operations of CNM, she met with employees and volunteers from local Massachusetts nonprofit organizations, assisting them in CNM's Resource Room with various types of research. After graduation, Ariel worked within the Fall River Public Schools, facilitating weekly bullying prevention lessons and providing enrichment opportunities to students. This Fall River native is ecstatic to be back at her alma mater, continuing the work she started as a senior CNM intern.
---
The Center's Background
In late 2003, Stonehill College received a congressional appropriation to establish a Center for Nonprofit Management (CNM). CNM began meeting with regional nonprofit leaders to better understand the management challenges and issues they face in addressing local needs. The initial needs assessment provided some preliminary insights to inform CNM's programming and future research questions and reinforced the limited local training available to many leaders in the field.
As CNM has continued to meet with nonprofit staff and volunteer members we have increased our understanding of these needs, identified other potential resources and partners, shaped programs and further assessed the best role for CNM. This increased knowledge has also helped CNM identify its focus on the smaller, under-resourced organizations in the sector, and those most rooted in and working with the at-risk communities in our region. While the CNM's training and educational programs are available to all nonprofits in the sector, priority will be given to these smaller organizations for more specialized interventions.