The Center for Nonprofit Management at Stonehill College works with and builds the leadership capacity of Stonehill students and community-based nonprofit organizations through southeastern Massachusetts and northern Rhode Island. CNM is focused on enhancing critical management skills, while also fostering relationships with and among the region's diverse community-based organizations so that they may achieve their missions more effectively and efficiently.
Staff listing
---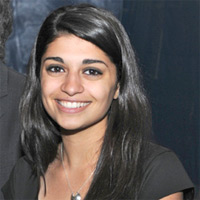 Sarah Varadian '10
director

(508) 565-1856
svaradian@stonehill.edu
Sarah Varadian, a 2010 graduate of Stonehill, is currently the Director of the Center for Nonprofit Management.
As the Director of the Center for Nonprofit Management (CNM), Sarah leads its external outreach and fund development efforts, organizes and runs the signature training programs, conducts specialized consultations in the areas of organizational development, board governance and strategic planning and manages the Developing Fundraising Leaders Institute (DFLI), a program that trains undergraduates in fundraising and development through a partnership with the College's Advancement Division.
Nearly ten years ago, Sarah started her own nonprofit initiative, The Wee-Care Bears, whose beneficiaries include girls' schools in Afghanistan, third world countries in Africa and an orphanage in Armenia. Her interest and passion for fundraising only grew when she discovered the incredible resources that CNM has to offer.
She became a CNM Intern in 2008, participated in the inaugural year of the Developing Fundraising Leaders Institute (DFLI) and completed the program with an internship at Lifespan, a healthcare system whose development department is responsible for the fundraising and advancement of five of the hospitals in Rhode Island. After graduating from Stonehill, Sarah worked as a consultant for Lifespan for a year and a half, rotating through each of the affiliate hospitals in various development capacities.
Having gained experience in many aspects of development and special events, Sarah was thrilled be able to bring her ideas and passion back to Stonehill and to the nonprofit sector as Program Officer at CNM for nearly two years before stepping into the Interim Director role in 2013.
Sarah is in her third term as the President of the Armenian Youth Federation's Providence, RI chapter and has served on the board of directors of the Norwood Scholarship Foundation for the past five years. She is also a board member of the Community Services of Greater Brockton, and volunteers as an Allocations Committee Leader for the United Way of Greater Plymouth County, as well as on the Stars 40 Under 40 Nomination Committee. A Massachusetts native, Sarah now resides in Cranston, RI.