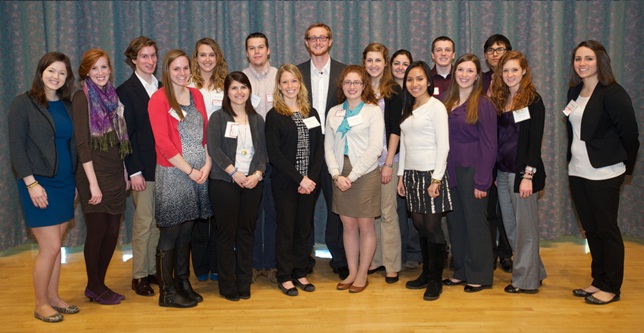 *Pictured Above, DFLI Class of 2013.
To learn more about DFLI, please download our flyer.
If you have questions, please contact us at 508-565-1856 or infononprofit@stonehill.edu
Congratulations to the DFLI Class of Fall 2014!

Patricia Belden '15
My name is Tricia Belden and I am a senior Graphic Design and Marketing double major. I have been involved with nonprofits on the volunteering side for as long as I can remember but it wasn't until recently that I started wanting a career in nonprofits. My internship at a local nonprofit, The Ellie Fund, solidified my desire to be able to use my career to serve others whether this meant working directly for nonprofits or working with them. DFLI is a way for me to learn about all aspects of working for or with nonprofits and this will help further my career path in the direction of the nonprofit sector. I am currently enjoying senior year but also very excited to see where I end up once I graduate!
Abigael Bongaarts '15
I am a senior history and German major from St. Louis Park, Minnesota. I spent my entire junior year abroad in Munich, Germany where I took classes in German, conducted research for my senior history thesis, and interned at The Rachel Carson Center for Environment and Society, an environmental humanities nonprofit research center. On campus I work as a Resident Assistant, Teaching Assistant, Writing Tutor, and German Tutor and volunteer at My Brother's Keeper and the Stonehill Farm. I hope to do a year of post graduate service and eventually pursue a career at a public broadcasting or environmental awareness nonprofit.
Dante Brito '15

I am Dante Brito Jr. and I am a Senior at Stonehill College, majoring in Communications with a minor in Sociology. I play on the football team here at Stonehill. In addition to that, I am a part of Athletes Bible Study, and am the SAAC Representative for the football team. I decided to join DFLI so I can gain a better understanding of what it takes to run a nonprofit. I know first-hand the impact that nonprofit work can have on an individual, so I wanted to get a course that was able to show me the ins and outs. I hope to someday run a nonprofit that will help underprivileged youth. I also hope to run workshops to help men become better fathers.
Emma Craig '15
My name is Emma Craig and I am a senior English major at Stonehill. I became interested in nonprofit work in high school, when I completed a community action project my freshman year. I worked with a local organization in Central Massachusetts, Andrew's Helpful Hands, which aims to pay the mortgages for families with children who are going through a bone marrow transplant. Throughout high school I worked to plan events and raise money for the organization. In college, I am most passionate about the education achievement gap as well as issues of gender equality. I have interned most recently with Let's Get Ready, an organization dedicated to preparing low-income first-generation college bound high school students for college and beyond. I am thrilled to be part of DFLI this semester and I hope that I can put my skills to good use upon graduation in May. On campus, I am a member of Surround Sound (the co-ed acapella group) and the Vice President of Women's Health and Empowerment Now. I also spent last semester in Amsterdam, studying sexuality and gender from an international perspective, which was a wonderful way to gain knowledge and experience in the areas of female empowerment and LGBTQ rights.
Rachel Cross-Mahoney '16

Hello! I am Rachel Cross-Mahoney a junior marketing major with a minor in communications from Ipswich Massachusetts. I was interested in becoming a participant in the DFLI program as I have always had a great love and respect for the nonprofit sector. Throughout high school I volunteered at Windursh Farm which is a therapeutic riding program for individuals with a variety of abilities and disabilities. I also worked in the office of the Essex County Trail Association which manages the land that is generously donated for the public to enjoy. After college, I would like to work for a nonprofit organization in their communications or public relations department. I would like to support organizations that offer alternative forms of therapy for individuals with autism and have considered working in the healthcare industry as well, ideally at Dana Farber Cancer Institute.
Initially when I began this course I was an accounting major; hesitant and uncertain about my future in accounting I began to gain a greater sense of what I wanted to do. One thing that stuck with me is the focus on finding a mission that ignites your passion and compassion. I would not feel like I was fulfilling my duty to an organization if I was simply crunching numbers (although it is important). I have been so fortunate to meet with and hear the stories from the Advancement Team and Center for Nonprofit Management and every individual has blown me away with their energy and drive; all which seems to be supported by their passion for the mission of the organization they support.
Elizabeth Dineen '15

I am a senior Healthcare Administration major and Psychology minor from Bethel, CT. Ever since I can remember, I have had a passion for disability advocacy. I have been serving as a member of the Best Buddies E-board chapter at Stonehill since my freshman year. This year I have further focused on this passion through my roles as the Into the Streets site director for the House of Possibilities and a Day Habilitation Assistant also at the HOPe house. Before the DFLI program, I only was aware of special event fundraising. However, this semester I am learning there are many other important roles related to fundraising and development. I am very grateful for the opportunities DFLI has given me.
Liza Duchesneau '15
My name is Liza Duchesneau and I am a senior English and Interdisciplinary Anthropology double major here at Stonehill. I am a native Vermonter, and avid writer, and I have a passion for service in the Easton community and back home. As the coordinator of the hunger/homelessness social justice sector of Stonehill's Into the Streets program, my compassion for those less fortunate than myself has grown exponentially. I have encountered some of the most inspiring people through my work with My Brother's Keeper and my alternative spring break experience in Canto Grande, Peru. It is because of those people that I am convinced the nonprofit sector is the right path for me, and I'm thrilled to have the opportunity to learn more about them through DFLI!
Matthew Farrenkopf '16
My name is Matt Farrenkopf and I am a Junior History major with a Communications minor. I am from Lynnfield Mass. My favorite things at Stonehill are the people I get to meet through different activities, such as ITS, Peer Mentor, and SGA. My hopes are to one day, work in development/advancement for higher education because I think it is very important for colleges to be well funded for students.
Colleen Hanrahan '15
My name is Colleen Hanrahan and I am a senior European history major and International Relations double major with a minor in Spanish. Last fall I spent the semester studying Spanish in Granada Spain. Last semester, I interned at an NGO in Washington, DC specializing in rural education in Pakistan. I spent much of my time working in the fundraising department, which sparked my interest in the field. After completing DFLI I hope to use the skills I have learned to seek a career in a non-profit. After graduation I hope to do a year of service before pursuing a career in international development. On campus I am involved in HOPE and Best Buddies.
Colleen MacDonald '17
I am currently a sophomore at Stonehill College. I am especially enthusiastic to be a member of the DFLI's Class of 2014 and am also in my second year of being the President of Stonehill's Class of 2017. Along with being involved with Student Government, I am also a Peer Mentor and Orientation Leader at Stonehill. I have traveled to Crosby, Tennessee on a service trip addressing the injustice of homelessness, and plan to travel to the Bronx, New York this spring on a similar trip. I have worked for local nonprofits such as the YMCA, and interned at the Brookview House in Dorchester, MA. I hope to use my past experience working with children and nonprofits in order to benefit children who are facing hardships out of their control.
Bethany McNamara '16
My name is Bethany McNamara and I am a Junior here at Stonehill. I am currently a biology major with a healthcare administration minor. I am originally from Tewksbury, Massachusetts. Other than being a part of DFLI, I am a student ambassador and Vice President of Stonehill's Chapel Choir. I have had the honor and privilege to participate in two HOPE service trips, one to Kentucky with the Christian Appalachian Project and the other to Tennessee with Sunset Gap Community Center. After graduation, I would like to take a year of service and use the skills I have gained in DFLI to pursue a career in a nonprofit organization.
Justine Mitchell '15
Justine is a senior Criminology and Healthcare Administration double major. She is a member of the Varsity Equestrian Team. Justine is the Editor in Chief of The Martin Institute's Criminology and Sociology peer-reviewed journal, PRINTS. ​After graduation, she hopes to work for a nonprofit healthcare organization.
Marissa Nieves '17

My name is Marisa Nieves and I am a sophomore here at Stonehill. I am a Political Science and International Studies major with a concentration in International Relations and anthropology minor. I am from Agawam, Massachusetts. Aside from being part of the DFLI Fall Class of 2014 on campus, I am on the Women's Ultimate Disc team and am a member of Skyhawk Hosts. After college, I would like to work for a nonprofit organization as a volunteer coordinator or in development.
Courtney Ouellet '15
As a healthcare administration major at Stonehill College I have recognized the importance of non-profits and fundraising in the healthcare industry. In the spring of 2014 I completed an internship in donor relations at Boston Children's Hospital Trust. As an intern I had the opportunity to engage in stewardship and cultivation of donors to support Boston Children's Hospital. Through participating in the DFLI program I look forward to gaining a greater understanding of non-profit operations and effective fundraising strategies.
Peter Schlaht '15

I'm a senior History and Arts Administration double major, originally from Escondido, California. During my freshman year at Stonehill, I visited the Museum of Fine Arts, Boston and fell in love with the art world. I started interning at non-profit art galleries in the summer of 2012 and since have volunteered or interned with a half dozen different galleries and museums from San Diego to London. My latest internship was in the development department of Dulwich Picture Gallery, and it truly got me interested in pursuing a future career in development.
Timothy Shipkin '15
My name is Tim Shipkin, and I'm a senior Business Management major. Because I enjoy helping people, I've always been interested in nonprofits and potentially working for one after graduation. In the fall of 2013, I was a Special Events Intern for the Alzheimer's Association, where I assisted in coordinating three "Walk to End Alzheimer's" events. I learned a great deal about how nonprofits operate through this internship and participated in a variety of roles including development, outreach, and stewardship. In the spring and summer of 2013, I was the eBay Coordinator Intern for The Charity Guild, Inc. in Brockton. On campus, I am a Site Director for Into the Streets, the college's community service group. I schedule and coordinate students for My Brother's Keeper with their volunteer director. I am also the At-Large Representative for the 2015 Class Committee. I decided to apply to the DFLI program because I am considering a career in the nonprofit sector.
Nicholas Staley '15
My name is Nicholas Staley, and I am from Medway, MA. I am a Stonehill senior majoring in finance. Throughout my life I have been involved in nonprofit work in a variety of ways. I have participated in many fundraising walks such as the Breast Cancer Walk and the Out of the Darkness Walk. I am also very involved with a local nonprofit, My Brother's Keeper (MBK). For most of my high school career at Boston College High School, I volunteered regularly with MBK over the summers, and during college at Stonehill, I have interned for them twice. While at MBK, I gained knowledge of the day-to-day operations of working at a nonprofit, helping coordinate and lead teams of volunteers as well as observing and participating in several of their annual fundraisers. I am also involved on campus as a member of the varsity Track and Field team, as a high jumper.
Anna Tallmadge '15
My name is Anna Tallmadge and I am a native Vermonter and a senior at Stonehill College. I am an Interdisciplinary Studies major with a concentration in Global Health. I am involved in a lot of things on campus including the HOPE Program, the SURE program and the Farm at Stonehill. I have previously worked with the Center for Nonprofit Management as a Resource Room Intern. I applied for DFLI to deepen my involvement with nonprofit management and to develop skills related to fundraising. After college, I am planning on doing a year of service in Tanzania related to food security before pursuing my Master's in Public Health. A fun fact about me is that I have just returned from two semesters of study abroad in India, Vietnam, South Africa and Nepal!