Stonehill Service Corps - Brockton is a post-graduate service experience in which graduates live in Brockton, MA and serve full-time in the community.
The service term is August through June.
2014-2015 Placements
Brockton Interfaith Community: Communications Coordinator
Community Connections of Brockton: Director of Marketing and Communications
House of Possibilities: Client Services Assistant
My Brother's Keeper: Direct Service Volunteer
Old Colony YMCA: Youth Advocate
School on Wheels of MA: Development Coordinator
Trinity Catholic Academy: Math teacher for grades 4-6, Extended Day/Computer Teacher for 4-6
Detailed placement descriptions can be found in Career Connection, search employer Stonehill Service Corps.
Accommodations and Affordability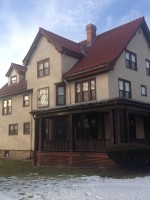 Corps members live in a large home in Brockton on the grounds of Christ the King Parish and Trinity Catholic Academy. As the Corps members are challenged to live simply in solidarity with those they serve, a modest monthly stipend is offered for food and incidentals and a van is provided for their use. The cost of rent, utilities, gas, car insurance, and maintenance on the shared vehicle(s) are covered. Corps members must provide their own health insurance coverage.
Student Loan Deferment or Forbearance
This experience may also allow participants to defer their student loans during their time in service, if the loans are held in the Corps member's name only. For student loan deferment or forbearance information, contact Eric Newnum, Associate Director for Loans, at 508-565-1394 or by email at enewnum@stonehill.edu.
Requirements
Corps members must commit to the program's principles of service, simple living, community, and spirituality. The program is open to Stonehill graduates of all faiths, from the current senior glass and the previous two graduating classes.
Orientation and Training
Corps members participate in a four-day orientation program at Stonehill College immediately prior to the start of the program. Orientation and job specific training will also be conducted on-site at their service placement.
Our 2013-2014 Partners and Corps Members (2014-2015 Coming Soon!)
Partner - Brockton Interfaith Community
Brockton Interfaith Community (BIC) is a broad-based power organization created in 1990 by area clergy who were troubled by the pressing needs and concerns of the residents in Brockton. Reaching across ethnic, racial, and religious lines, BIC trains its diverse members from 15 congregations to improve their community by building relationships, identifying common concerns, finding solutions, and taking action for social justice. This fall, BIC has embarked on a campaign to raise up the dignity of the Massachusetts worker. In collaboration with dozens of groups across the state, we are working to gather 200,000 signatures for two ballot initiatives: an increase in the minimum wage and earned sick time.
Jessica Mardo '13
"As a Brockton volunteer, I serve with BIC as the communications fellow. My primary responsibility includes maintaining our social media pages, sending out the newsletter, and updating our website. I also serve as the office manager for minimum wage and earned sick time petitions. This means that I track and handle all outgoing and incoming petitions and signature totals from our volunteers on a daily basis. Finally, I am responsible for creating and leading a team of Stonehill students to work on our signature gathering campaign for minimum wage reform on campus."
Partner - Trinity Catholic Academy
Established in 2007, Trinity Catholic Academy is a pre-kindergarten through eight grade academy divided into two campuses. Although the school is physically divided, the faculty, staff, and entire student body come together as one family. According to its mission statement, TCA "strives to instill the spirit and teachings of the Catholic faith while offering a challenging academic curriculum." That curriculum is enriched with fine arts, technology, and athletics. The school offers many services to assist both students and their families: Extended Day programs; breakfast and lunch; intramural sports; clubs and activities like choir and drama; and a new affiliation with City Connects offers resources and support for students and their families. Trinity Catholic Academy seeks to educate the whole person--mind, body, and soul--in a safe, welcoming environment conducive to learning.
Madeline Mahony '13
"At Trinity Catholic Academy, I serve as a co teacher in the second grade. This is a grade that I am very familiar and comfortable with as I completed my student teaching for my Elementary Education major in this particular grade. My main responsibilities include assisting both second grade classrooms with prep work, grading, lesson planning and instruction. During the day, I divide my time between both second grade classrooms and will teach 1-2 lessons a day. Additionally, I work with Trinity's extended day program with the preschool and pre-k students."
Kyle Weeks '13
"I am teaching 7th and 8th grade science as well as 7th grade religion at Trinity Catholic Academy. I am responsible for creating weekly lesson plans for each grade and subject and then educating the students on the material I have prepared. I am responsible for receiving incoming students in the morning and keeping the flow of traffic through the parking lot orderly and safe for all students, parents, and faculty. After school, the Extended Day program is held in my classroom. I am required to help run this program on Tuesdays but I always help out each day for a short amount of time each day."
Emily Pothier '13
"I teach sixth grade at Trinity Catholic Academy. Having graduated this past May with a degree in English and History and a minor in Secondary Education, I am expanding my teaching horizons by working with middle school students. I am responsible for planning lessons and instructing students in Religion, English Language Arts, Mathematics, and Social Studies. I am responsible for the care and safety of my students, ensuring students are picked up after school and helping with Extended Day every Tuesday. I am looking forward to watching my students grow academically, socially, and emotionally this year, and also for the impact this year of service with have on my own outlook on life."
For More Information
Read the Brockton blog!