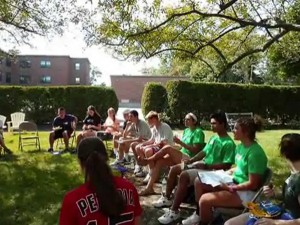 Stonehill College Celebration of Service 2013
A big thank you to all of our community partners for the many ways in which you bless our students!
Please also check out our 2014 Celebration of our community partners!
Inspired by the enduring values of a Holy Cross Education, "Stonehill College educates the whole person so that each Stonehill graduate thinks, acts, and leads with courage toward creating a more just and compassionate world" (Stonehill College Mission Statement).
There are several ways for students to get involved in community service and volunteerism at Stonehill. From H.O.P.E. Service Immersion Trips to one-time volunteer projects, from Community Engagement Day during first-year Orientation to tutoring children weekly, Stonehill seeks to live out the Church's call to be of service to our brothers and sisters. Campus Ministry offers several programs through which students can get involved in service. All are welcome.
Service Tracking System:
Students, please log your service hours on a monthly basis using the Stonehill Service Formsite Page. Here is a list of 5 reasons you should log your service hours:
This will be the ONLY way to track your service hours to receive a merit point.
Volunteering for a class? This easily allows your professor to see where and when you volunteered.
Keep track of your own hours online - no more losing schedules!
Stonehill uses this information regularly to report your outstanding commitment to service, and to receive recognition such as the President's National Community Service Honor Roll.
See the impact of Stonehill students : During the 2010-11 Academic Year, Stonehill students contributed over 41,000 hours of service to the community and nearly 700 students volunteered through Into the Streets!