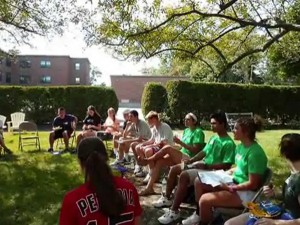 Stonehill College Celebration of Service 2013
A big thank you to all of our community partners for the many ways in which you bless our students!
Please also check out our 2014 Celebration of our community partners!
Inspired by the enduring values of a Holy Cross Education, "Stonehill College educates the whole person so that each Stonehill graduate thinks, acts, and leads with courage toward creating a more just and compassionate world" (Stonehill College Mission Statement).
There are several ways for students to get involved in community service and volunteerism at Stonehill. From H.O.P.E. Service Immersion Trips to one-time volunteer projects, from Community Engagement Day during first-year Orientation to tutoring children weekly, Stonehill seeks to live out the Church's call to be of service to our brothers and sisters. Campus Ministry offers several programs through which students can get involved in service. All are welcome.
Service Tracking System:
Students, please log your service hours on a bi-weekly basis on MyHill. If you encounter any problems or have any questions, please contact Erica Stewart in Campus Ministry.
Directions to Track Service Hours:
-Log on to MyHill
-Click the "MyCampus" tab
-Under the "Campus Ministry-Community Service" section, select "Student Community Service Volunteer Time Reporting"
-Select the Organization with whom you serve from the dropdown menu. If you serve with more than organization, you must log your hours for each organization.
**Note: If the organization is not listed, contact Erica Stewart in campus ministry immediately.
-Select the time period.
**Note: If the time period during which you wish to log hours is overdue, contact Erica Stewart in campus ministry immediately.
-Click "Enter Hours" and enter the appropriate amount, then click "Save Hours."
-You may enter your hours periodically throughout the time period. Once you have submitted all your hours, click "Submit for Approval."