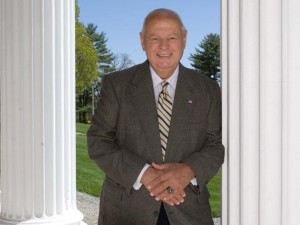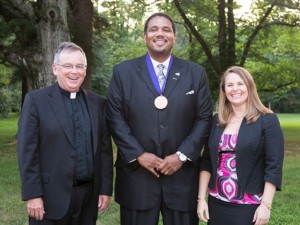 Alumni Service Award: 2014 Brian Hoffman '77
When it comes to career advice, networking and mentoring, Brian Hoffman '77 has been a friend to Stonehill students and alumni. In appreciation of his efforts, the Alumni Council presented Hoffman with the Alumni Service Award. Congratulations and thanks to Brian.
Alumni Day 2015
Alumni of all ages and their families returned to campus for a full slate of activities on January 31, 2015. Highlights included a winter carnival, and a winter warm up party, followed by the men's and women's basketball games. A Summit Reunion was held for alumni in the evening.
Auction 2014
The 19th Annual Alumni Auction, hosted on November 1st, raised over $50,000 in support of student scholarships. Click here to learn more.
Yawkey Foundation Provides Grant to Establish Lou Gorman Pavilion
A $2 million grant from the Yawkey Foundation in support of the Sally Blair Ames Sports Complex expansion project will be used to establish the Lou Gorman Pavilion. A member of the Stonehill Class of 1953 and synonymous with the Boston Red Sox, James "Lou" Gorman was one of the College's greatest…