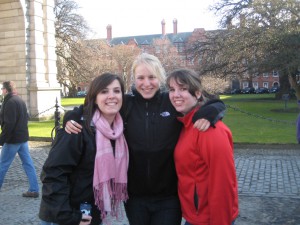 "The trip was eye opening. We were able to visit the historical and literary sites that we were learning about. It made the course material come alive."
- Kaitlyn Nolan '12 (right), on her Learning Community experience in Ireland
Students choosing the Irish Studies minor will draw knowledge from many of the academic programs that are at the heart of a liberal arts education. English courses such as "Topics in Irish Literature" are combined with History courses such as "Ireland: From Colony to Nation State" and Political Science courses that explore (both in the classroom and abroad) Ireland's system of government.
We Bring Ireland Here & Send Students There
In addition to its core courses, key features of the Irish Studies Program include the study abroad program at National University of Ireland-Galway and internships in Dublin.
Students also have the opportunity to participate in an Irish Studies Learning Community, a combination of two seemingly disparate courses that analyze one set of issues from two points of view. One recent example is an LC titled "Ireland: The Literature of a Nation, the Quest for a Nation."
In addition, students benefit from periodic conferences, poetry readings and a guest lecture series, which has brought to campus three Prime Ministers of Ireland and Nobel Prize winning poet Seamus Heaney. Other scholars and experts include:
Sister Lena Deevey, Irish International Immigration Center 2012, on Irish immigration
Edward Forry, Editor, Boston Irish Reporter, 2010, on the Boston Irish community
Charlie King, folksinger and historical interpreter, 2010, on the ballad tradition in Ireland
Michael Lonergan, Consul General Ireland, on the Irish economy
Deirdre NiFhalluin, Vice Consul Ireland, on Ireland and the European Union
Dermot Keough, University College Cork, on church-state relations in Ireland
Brian O'Donovan, WGBH, host of Celtic Sojourn, on Irish rebel songs and music
Verena Cummins, National University of Ireland-Galway, on the evolution of Irish music
Louis de Paor, Centre for Irish Studies, NUI Galway, on the state of the Irish language
John Coakley, University College Dublin, on the state of Irish politics
Special Collection Offers Unique Access to Historic Documents
Stonehill students conducting research also have a unique resource to draw upon in that Stonehill holds the only comprehensive collection of Irish Government Documents from 1922 to 2004 in the United States. In Ireland, these documents are known as Official Publications.
Related Pages