I traveled from New Jersey to attend a campus tour and observed a Stonehill History class, The Irish-American Experience taught by Professor McCArron. Within minutes, I held a positive impression of Professor Edward McCarron, the course material and the intellect of the student body.
Professor McCarron did not merely lecture, but rather conducted a conversation with the students by facilitating questions and breaking the class into small work groups.
At the conclusion of the class, I made my decision to attend Stonehill College with the hope that my academic experience would mirror the class I had just witnessed.
Looking back, I can confidently say that my experience within the History Department far exceeded my hopes. In every one of my History classes I found myself engaged with rigorous, exciting subject matter in the form of course readings, projects and research papers.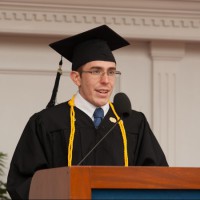 Not only was my classroom experience and assignments enriched by the participation of fellow students, but I was also in the company of an enthusiastic and knowledgeable History professor in every class.
All of my professors highly encouraged their students to stop by their offices at any time to discuss a topic shared in class or examine a potential paper idea.
Being the recipient of such support and encouragement significantly enhanced my academic abilities both at Stonehill and currently while a graduate student at the School of Public Affairs and Administration at Rutgers University.
The skills of critical thinking, effective speaking, research and strong writing taught in the History Department prepare every History major with the skills necessary to succeed in any career, as every occupation values such skills.
Therefore, I approach every graduate assignment confidently, knowing that I have the skills instilled in me as a Stonehill History major to succeed.
Furthermore, I know that not only will these skills continue to bring me success in graduate school, but will also make me an effective leader in any future career I choose.
I am proud to say that I have earned a History degree at Stonehill College and I truly hope you may one day echo the same sentiment."