Stonehill English majors have ample opportunities to work alongside professors as co-researchers in the Stonehill Undergraduate Research Experience (SURE) program or as teaching assistants in the classroom.
We also connect students with internships at a wide variety of workplaces that value an English major's skills.
Sample Internship Sites
Adams Media
Addison Wesley Publishing
American Lung Association
Arnold Worldwide Advertising
Artscope Magazine
Association of Independent Colleges
Boston Ballet
Boston Museum of Fine Arts
Carnegie Hall
Channel 5 sports, Channel 22 news
Cornerstone Communications
Crunch Communications
Dana Farber Cancer Institute
Habitat Massachusetts Audubon Sanctuary
Harvard Common Press
Massachusetts General Hospital
New Bedford Police Department

New England Wildlife Center
Norfolk County D.A.
Office of Development, Stonehill College
Offshore Communications
Old Colony YMCA
Robert B. Mann, Attorney at Law
Rounder Records
Russian American Cultural Center
Scientific Corp.
Teen Voices, national magazine
The Boston Phoenix, alternative weekly newspaper
The Enterprise, local daily newspaper
The Sandra Feinstein-Gamm Theatre
Time, national news magazine
Tourism Cares
Whole Person Health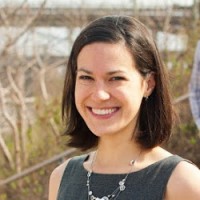 Laurie (Barowski) Hagerman '08
Fundraising professional, Denver area
The single most valuable experience of my Stonehill College career was my internship with the Corporate Relations team at Carnegie Hall.
During my semester in New York City, not only did I learn what a development department did, I also figured out what I wanted to do after graduation, and most importantly, I found a goal and the courage to blaze a path to pursue it.
As I gained fundraising experience, composing written correspondence with donors and interacting with my coworkers in a wide range of situations and environments, both in person and electronically, I learned the importance of the art of communication, and discovered a fascination with the power of language.
In sum, I cultivated a passion that propelled me through my final year at Stonehill with a renewed enthusiasm for English and communication: although the study of literature did not directly relate to my new post-graduation objectives of living and working in New York City — at Carnegie Hall if possible — I was eager to analyze the linguistic styles of other writers, and to develop my own writing skills and command of the English language.