Our graduates have been successful throughout many sectors of the economy — ranging from the financial services and investment industry to government positions, and the not-for-profit sector in various areas of our economy. Companies that have hired our Economics graduates range from Wall Street banking and investment firms to organizations that include Children's Hospital Trust, the Peace Corps and W.B. Mason.
Additionally, our graduates have performed well in law school and in graduate schools in economics, finance, public policy and international studies, often with full scholarships or significant financial aid. Recent graduates, for example, have enrolled in economics Ph.D. programs at:
Boston College
Notre Dame
University of New Hampshire
George Washington University
Clemson University
GRADUATE SPOTLIGHT: Manthala George '62
In 2009, the City of Brockton, Mass., named an elementary school after Manthala George Jr., who graduated from Stonehill in 1962 with a degree in economics and went on to become superintendent of the Brockton School System. The son of Lebanese immigrants, George dedicated his professional life to community service. In 1995, he received the Stonehill President's Medal for his contributions to public life.
"The quality of the students, professors, administrators and members of the clergy that I have met is what really makes Stonehill a special place. I have never felt apart from Stonehill and it has always been a very special part of my life. Quite frankly, I owe my entire professional career to Stonehill."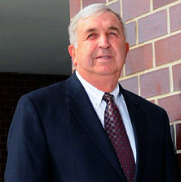 Manthala George '62