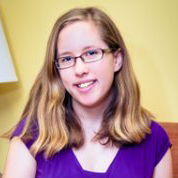 Graduate Perspective: Deirdre Kleist, Class of 2012
A program of diversity, flexibility & opportunity
Originally from Connecticut, Deirdre Kleist graduated from Stonehill in 2012 with a dual degree in Catholic Studies and Early Childhood Education.
As part of her Capstone Project senior year, Kleist highlighted what she felt were three of the Catholic Studies program's strengths:
The diversity of courses allowing a student (with faculty guidance) to "customize" their focus in Catholic Studies
The availability of doing directed studies, which allows the student to study a particular question, topic, etc. that may not be offered in a formal course
The opportunity to participate in an internship, i.e. Campus Ministry, Parish Ministry, Catholic Charities, Catholic Relief Services or possibly some "church-related" organizations in Washington, D.C.
Kleist is now a staff member at Amate House, a young adult volunteer program of the Archdiocese of Chicago that is designed to support and form leaders for the Church and world, as well as to provide services in response to the needs of the poor and marginalized.
---
Many Catholic Studies graduates go on to teach or do work involving history, theology or Catholic studies. The program is particularly well suited for students interested in working in a Catholic institution: at a Catholic hospital or other healthcare operation or as director of a religious education program at a church or parochial school.
Entry-Level Careers
Educator
Editor
Journalist
Peace Corps/VISTA Worker
Graduate & Professional School
A master's degree earns advancement in position, increased salary, and additional benefits in most professional organizations. A doctoral degree qualifies a person to teach in a four-year college or university. This degree also earns tenure, advancement in position, increased salary and acquisition of additional benefits.
Professional Careers
Clergy
Hospice Director
Professor
Professional Lay Minister
Researcher
Social Worker
Counselor
Psychologist
Chaplain