Kyle Ryan '14 and Caitlin Kowalski '14
Top scores nationwide on 2013 Biology Major Field Tests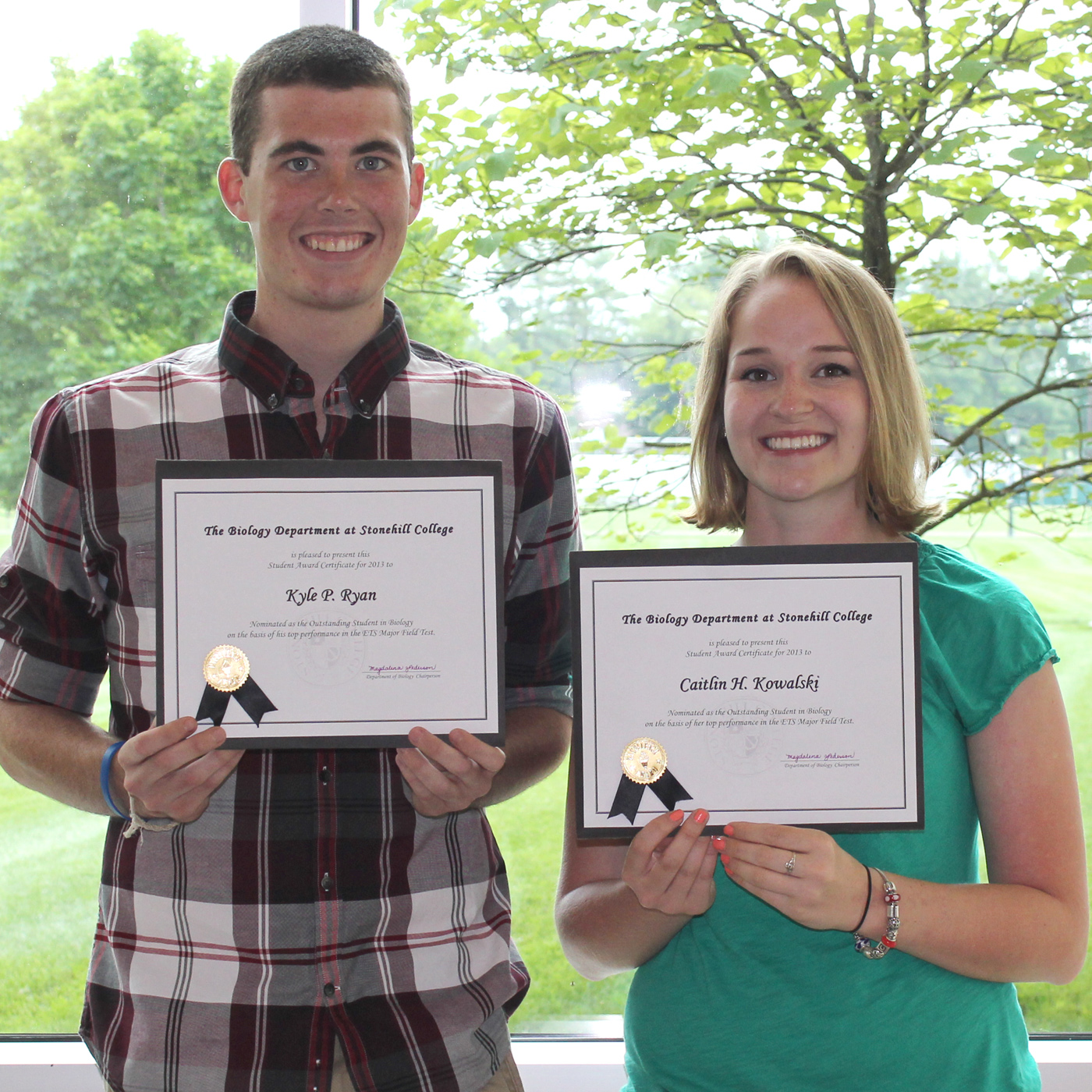 Every spring all junior and senior biology and biochemistry majors are required to take the Biology Major Field Test, a national standardized exam administered by the Educational Testing Service. This spring, the top two scores were earned by Kyle Ryan and Caitlin Kowalski. Kyle's scores in both the Organismal Biology and Overall categories ranked in the top 1% nationwide. Caitlin's score in Population Biology & Evolution and Overall categories ranked in the top 1% and 6% nationwide, respectively. Both Kyle and Caitlin are S.U.R.E. scholars who plan to attend Ph.D. research programs after graduation from Stonehill next May.
---
Megan Shave, '11
2012 National Science Foundation Graduate Research Fellow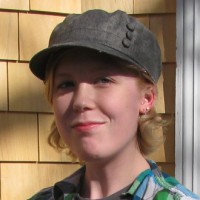 Megan Shave, top science graduate in the Stonehill Class of 2011, was awarded a National Science Foundation Graduate Research Fellowship in 2012. She will be supported by the fellowship for the next three years to further her research on avian behavioral and population ecology and continue her education at Michigan State University where she has been admitted to its doctorate program in the Department of Zoology.
As a Moreau Honors Scholar at Stonehill, Shave graduated in 2011 with summa cum laude honors as a Biology major and English minor. As a Stonehill Undergraduate Research Experience (SURE) scholar, Shave presented a poster at the Eastern New England Biological Conference in 2009, focusing her work on salamander tail samples she collected around campus. Now, through her NSF fellowship, she will continue her zoology research.
Since graduating in May, the Brockton native has continued her passion for biology and avian research, serving as a bird banding intern at the Manomet Center for Conservation Sciences, where she set up nets to band birds. Shave has also earned a fellowship at Michigan State's College of Natural Sciences.
The NSF Graduate Research Fellowship Program supports outstanding graduate students in NSF-supported science, technology, engineering, and mathematics disciplines who are pursuing research-based master's and doctoral degrees at accredited U.S. institutions.
Shave will receive a $30,000 a year stipend for three years to fund her research, a cost of education allowance, and access to international research opportunities, along with top of the line resources and data collectors.
---
Kate Sullivan '12
Where Science and Congregation of Holy Cross Values Meld
Professor Magdalena Pederson, chair of the Biology Department, recently spoke to the Class of 2016 about 2012 alumna Kate Sullivan's research into parasites and infectious diseases.
Pederson said what's "most honorable is the fact that Kate's passion for learning about parasites led her to use that knowledge for a greater purpose."
After graduation, Sullivan went to Haiti, the poorest country in the Western Hemisphere, where she helps patients infected by a parasite that causes swelling of the lymph nodes, a swelling so disabling that patients end up being ostracized by society.
Pederson said Sullivan got involved in the Haiti effort after working with a University of Notre Dame priest who oversees the program. She went to do research and helped so much that they gave her a $20,000 scholarship to cover any expenses she incurred.
She is now helps other Stonehill students do similar work in the program.
"When I read Kate's narrative about her journey in Haiti, it reminds me of how privileged I am when I witness the fruits of curiosity," Pederson said, adding that all Stonehill students have the potential to make a difference in the world.
---
Other Student Success Stories
Patrick Hill '12, Doctoral student UMass Amherst, Molecular & Cell Biology

Daniel Tempesta '12 is in the Nuclear Medicine Technology program at Regis College and has already landed a position at Mass General Hospital.

Holly Boyle '12 currently an M.D. student at Pennsylvania State College of Medicine, Class of 2016

Kara Kopakinski '11 currently studying medicine in Kansas City University of Medicine.

Caitlin O'Connell '11 is a Ph.D. student in Pathobiology at the University of Connecticut

Samantha Ricci '11 is an M.D. student at Pennsylvania State College of Medicine, Class of 2015

Tom Hernon '09 student at Boston University Dental School

Melissa Martin '09 PhD candidate in Pharmacology at the University of Rochester School of Medicine

Jessica (Tatarek) Tesell '08 PhD candidate at UMass Medical School