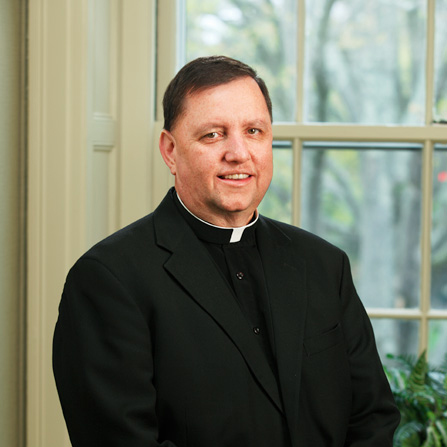 Fr. Mark T. Cregan, C.S.C. '78, was inaugurated as Stonehill's ninth president in 2000. A member of the College's Board of Trustees since 1995, he has worked diligently on several key fronts since becoming president.
Fr. Cregan has enhanced the College's strong academic profile and has engaged the faculty in this initiative. He has modernized the governance structure, making it more responsive and effective. He has also built on Stonehill's many ties to the community by reaching out to neighbors and friends with renewed vigor.
During his decade of service, the College has successfully completed over $100 million of new construction and renovation to the campus. Additionally, the college has recently completed its ambitious fundraising campaign surpassing the $55 million campaign goal.
Active in all areas of Stonehill life, Fr. Cregan teaches courses in the areas of non-profit management, constitutional and immigration law.
Fr. Cregan serves on numerous boards and is currently a member of the Massachusetts delegates to the New England Board of Higher Education.
Prior to his appointment, he was pastor of Sacred Heart Parish, a large inner-city parish in the Bronx, N.Y. In addition, he maintained a general practice law office, serving low-income clients. he also provided leadership to the Archdiocese of New York's community development efforts, which produced over $100 million in affordable subsidized housing.
Fr. Cregan received a B.A. from Stonehill in 1978, a master of divinity degree from the University of St. Michael's College, Toronto School of Theology, and a juris doctor degree from Brooklyn Law School. He received a honorary doctor of laws degree from New England School of Law in 2005.
Joining the Congregation of Holy Cross in 1975, he was ordaind to the priesthood in 1983. Fr. Cregan is also admitted to the bars of the U.S. Supreme Court, Commonwealth of Massachusetts, State of New York, District of Columbia and various federal appeals and district courts.
Besides English, he speaks Spanish fluently and has reading knowledge of Portuguese, Italian, French and Latin.