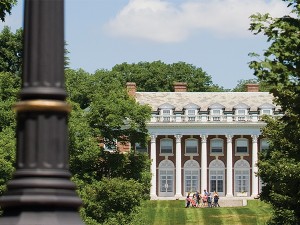 Skyhawk Welcome Day
Skyhawk Welcome Day is a great opportunity to connect with professors and classmates and begin forming the kind of mentoring relationships and friendships that can last a lifetime. Get ready to experience what it means to be a Skyhawk.
Next Steps
Once the good news really sinks in, you'll likely begin thinking, "what's next?" Here's a list of steps you'll need to take between now and next fall.
1. Meet smart, passionate, inspired people who have found a sense of purpose at Stonehill
Visit www.stonehill.edu/purpose to hear from students, faculty and alumni who have stories to share with you.
2. Connect with your class
Join the Stonehill College Class of 2018 Facebook group. See who's coming to Stonehill, connect with future classmates, get all your Stonehill questions answered and get up-to-date info on all our events.
3. Mark your calendar for Skyhawk Welcome Day
RSVP to attend our admitted student open house. Learn more about Skyhawk Welcome Day.
4. Send in your deposit and officially become a Skyhawk
Your $750 enrollment deposit is due May 1, 2014. Deposit Today!